Sixteenth Notes
The next level of counting involves sixteenths, which logically enough are played twice as fast as eighths. Again there is a traditional way of counting which makes it quite simple to sort out mixtures of different time values.
Reviewing what we have learned already, we use the number for the main beats, and for faster notes in between we use the word and. Now, to double up again, we use the short syllables e and a like this: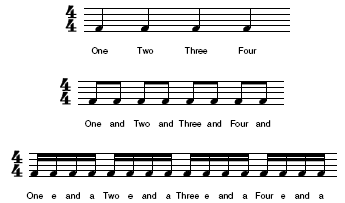 When you count, start with a slow four, then keep the number counts at the same steady pace as you fill in the sounds for the other notes.