Chord Families
It is very useful to understand the basics of chord construction and how chords relate to each other.
The most obvious case is the G7, which resolves naturally to the C chord, but in addition you will notice that many songs in the key of C use the F, Am, and Dm chords, all of which belong in the C chord family.
The best way to understand this is to look at the notes of the C-major scale.

Major chords are made from the first, third, and fifth steps of the scale.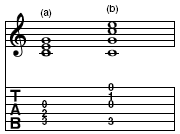 Here is the major chord built on the first note of the scale, known as the tonic. The three important notes are the C, E, and G. The second chord shown above is a familiar guitar version of the chord with more notes, but each of them is still a C, E, or G. When the notes are repeated, as in the case above where there are two Cs, the C is said to be doubled. In making bigger chords, the first and fifth may be freely doubled. Doubling the third doesn't sound as good. A chord can be made without the fifth, as in (a), below: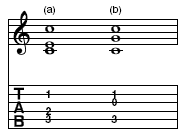 The chord still has some flavor of being a C chord. However, if you leave out the third, as in (b) above, the character is lost and the chord sounds hollow.