Tango
An ever popular dance is the tango, with its distinctively clipped sound.
Starting on a stressed upbeat, the count is:
and One Two Three Four and One Two Three Four, etc.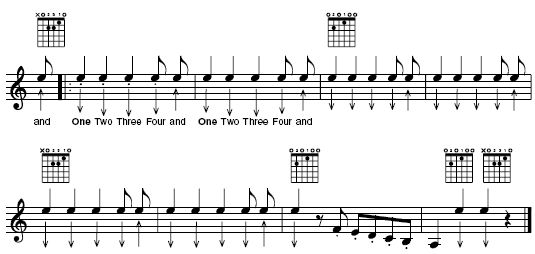 The quarter note chords have been marked with a staccato sign marked in the first measure, indicated by the dots below the notes. This means that the chords should be cut off by damping, in this case with the left hand little finger, to give them the dramatic effect typical of this form.
This does not apply to the upbeat eighth note chords which, by contrast, should last their full value, giving a tar-rump effect. The staccato on the single notes shortens the time they are held, but each note starts on its beat as written, i.e, the overall tempo is not changed. The notes simply have a clipped sound.
As with all the forms illustrated here, there are many variants, but once you understand the basic rhythm you will be able to experiment with making variations.